Image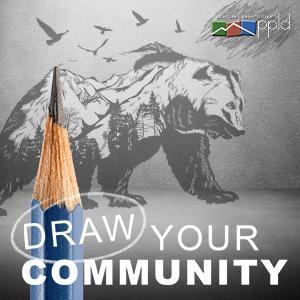 We're celebrating our communities through drawing! Submit a drawing depicting what you love about your community/neighborhood (a place, a person, an idea) for display in a September art show at participating libraries.  
All through August, free drawing supplies and drawing classes will be available at Cheyenne Mountain Library, Manitou Springs Library, Monument Library, Old Colorado City Library, Penrose Library, and Rockrimmon Library. All ages and skill levels are welcome to participate.
Submit your drawing in person at one of the libraries above or online here from August 1 - August 31!  
Click here for the full calendar of our free drawing workshops from local artists in August. Looking for an online option? Check out How to Draw - Great Courses series on Kanopy!  
Libraries will display their community's drawings in September. An online gallery will also be available to browse. Artists are invited to the gallery open houses in September to talk about their work with the public and to meet other artists.   
Drawing Workshops 
Join local artists to learn the basics of drawing in these workshops! Participants are encouraged to submit a sketch to the community art gallery show we will be putting on in September. 
 
Open Houses 
Join us this September to celebrate and appreciate the works of local artists from our Draw Your Community program. This reception will include a meet and greet with artists. Light refreshments provided. No registration required for this free program.