Image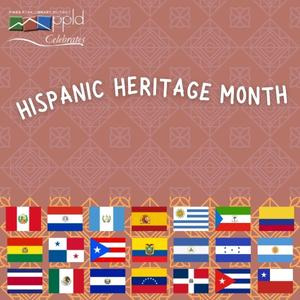 Hispanic Heritage Month is celebrated from Thu., Sept. 15 - Sat., Oct. 15, recognizing the contributions and influence of Hispanic Americans to the history, culture, and achievements of the United States. PPLD hosts several opportunities to learn and celebrate.
---
Hispanic Heritage Month for Children – Criss Cross Mangosauce
Celebrate Hispanic Heritage Month! Don't be afraid, here comes the wolf! ~ No tengas miedo, aquí llegó el lobo! Enjoy bilingual songs and stories, practice colors, and do finger plays with Criss, Cross Mangosauce. For ages 1 – 5.
Click here to watch this program.
---
Hispanic Heritage Month Recipe Cards
Learn about favorite foods and make recipes from some of the cultures celebrated during Hispanic Heritage Month. Available at all locations starting Wed., Sept. 14.
---
Booklists
---
Resources
Adults:
Regional History and Genealogy
Archival Collections

Heidi Vazquez Guy Records (MSS 0408) The Heidi Vazquez Guy Records consist of two series: Biographical Files and VHS Tapes. Biographical information provided in each file includes: birthdate, parents names, names and number of children, education, careers, and Colorado memories. Most files also include a photograph. The VHS tapes contain oral history interviews of people in the Biographical Files conducted by Heidi Vazquez Guy.
De Donde Eres oral histories Conducted between the years 2003 -2005, ¿De Donde Eres? was an oral history project organized by Pikes Peak Library District's Special Collections in an effort to document and promote understanding of the region's Hispanic community and their many contributions to Colorado Springs. The collection is comprised of 25 individual videotaped interviews which have been digitized to audio only format. A complete listing of the project interviews is available at the Special Collections reference desk and transcripts are available for a few of the oral histories.

Young Adults:
Families and Children:
Reference Books and Magazines

For more titles and information, visit Special Collections or search our catalog! Books are from the Carnegie Library - Special Collections. (Some titles are available for checkout from other library locations.)

Websites