Have you ever wondered how much you talk to your baby/toddler?  
Would you like to learn ways to increase talking practice and get your child ready for school?  
LENA Start is an 8-week program that helps parents with children 0 - 32 months increase back-and-forth talk. Weekly sessions combine videos and group discussion to build knowledge and skills that you can put into practice with your child.   
 
How does LENA Start work?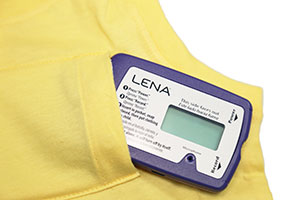 Attend weekly, hour-long sessions (in-person or virtually on Zoom) * 
Complete one LENA Day per week with the LENA device (Read more about the LENA device here: https://www.lena.org/technology/)  
Upload LENA device using your home computer OR by exchanging at a library  
Receive a detailed report of the amount you talk with your child and track your progress through the program 
At the end of the program, qualifying families ** receive: 
•    8 children's books    
•    $20 gift card    
*Your child does not have to attend sessions with you to participate in the program.   
**Participants must attend 7 sessions, complete 6 recordings, and return their LENA device.
---
** IMPORTANT PLEASE READ BEFORE REGISTERING **
LENA Start is open to residents of El Paso and Teller counties only and registration is required.  
One child per family may participate. If you have previously completed the LENA Start program, you are not eligible to participate again.  
If you are registering for a virtual LENA Start series, it is mandatory to attend one of the in-person orientation sessions to participate in the program. 
---
In-Person Orientation:
(Attendance at in-person orientation is mandatory to participate in the program.)
Tue., Jan. 9, 6:30 - 7:30 p.m. at Sand Creek Library
---
PPLD is offering one virtual session in Winter 2024! Registration opens on Dec. 1, 2023, and closes on Jan. 2, 2024.