LENA Start is an 11-week virtual program where parents learn how to increase conversational turns with their babies and toddlers. Pre-registration REQUIRED. You must attend a mandatory in-person orientation session at one of the PPLD Libraries. Coordinators will contact registered families with dates. If you are unable to attend the orientation session, you can attend a future session.
Available sessions:
Coming Soon
Upcoming sessions
Wednesdays, Oct. 6 - Dec. 8 from 10:30 - 11:30 a.m.: CANCELLED
LENA Start is offered on different days. These are separate cohort sessions. You may only register for one session series.
---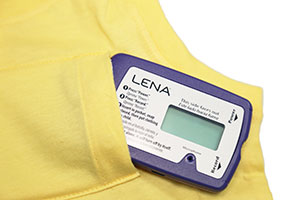 Have you ever wondered how much you talk to your baby/toddler? Would you like to learn ways to increase talk and get your child ready for school? This 10-week program will help parents, with children 0-32 months, increase conversational turns. Each week a child will wear a "talk pedometer" to track the number of adult words, conversational turns, and minutes of electronics they are exposed to. We will increase conversational turns by the end of the 10 weeks. We will meet weekly to give you tips on how to increase conversational turns. Families will receive 10 free books and three gift cards throughout the session! The child will receive a gift at graduation! For more information contact Melody Alvarez, malvarez@ppld.org or (719) 531-6333, x6115