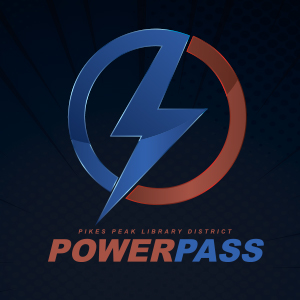 Knowledge is power. Unlock your potential!
The PowerPass is a just-for-students library card from PPLD, granting access to the Library's digital resources like digital resources, databases, eBooks, and song and movie downloads. Each PowerPass holder can also check out five physical items at a time from any of the 15 PPLD locations or mobile library services. Currently, all Colorado Springs School District 11 students have a PowerPass! Soon, PowerPass is coming to Harrison School District 2.
Elementary students and their parents will benefit from kid-friendly eBook and audiobook access, digital education resources, and in-person classes at PPLD to learn how to write, draw, code, or use makerspace equipment.

High school and middle school students can use their PowerPass for online access to live tutors and online foreign language courses. They can also get help with projects and prepare for the future with practice driving and SAT tests.



PowerPass Fast Facts:
The student has an e-card (i.e. not a physical card)
The student card # is the first five letters of their last name (fewer if the last name has less than five letters) followed by the initials of their first and middle names (if they have a middle name) and then the last four number of their student ID (for example, John Jacob Jingleheimer student ID 12345678, their PowerPass ID would beJINGLJJ5678)
Student PINs are the two-digit month and day of their birthdate (ex, 0731)
Student cards have the profile of STUDENT
Students are allowed to check out five items and have five holds at a time. However, Interlibrary Loans are not permitted on these accounts.
Student accounts are blocked at $10 which prevents further checkouts of physical materials and use of OverDrive.
Students can use the self-checkouts' on-screen keyboard to enter their account IDs and PINs. The onscreen keyboard now displays letters and numbers.
If a parent does not wish for their child to use PowerPass, they may opt out at the child's school.