Image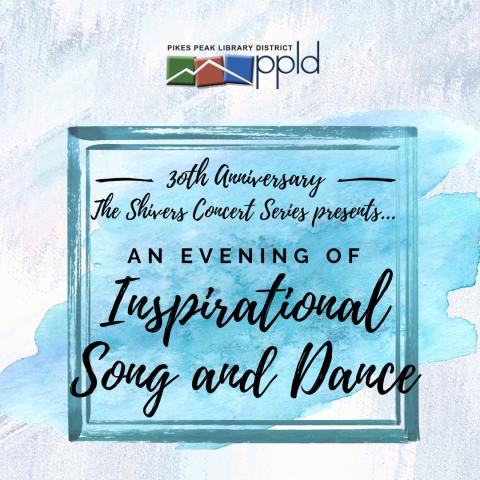 Celebrate 30 years of arts, culture, and fundraising for a cause at the Shivers Concert Series 30th Anniversary concert – An Evening of Inspirational Song and Dance. Enjoy music and dance performances with remarks by Peggy Shivers and honored guests. Proceeds help the Shivers Fund at PPLD to support opportunities for our community to celebrate diversity in history, culture, and the arts.
The event will be held at Packard Hall at Colorado College on Sun., Aug. 6 at 4 p.m., and a reception will follow at 5:30 p.m. During the reception, there will be book signings and participating artists will have art on display. 
---
Concert line-up is as follows: 
Prelude - John Redmon, Piano  
Welcome  - Teona Shainidze-Krebs, CEO Pikes Peak Library District
Introduction of Master of Ceremonies  - Peggy Shivers  
Master of Ceremonies - Amanda Mountain, CEO Rocky Mountain PBS  
Deborah Anderson, Soprano with Beth Nielsen, Piano Accompaniment
Maria Peterson, Dancer   
A Few Words from Dr. Constance Batty, Author and Bryan Lakey, Artist
Velvet Hills Chorus  
Blair Smith, Dancer  
Colorado Springs Chapter of Gospel Music Workshop of America   
Closing Song - Let There Be Peace On Earth
Tickets are available in advance for purchase online or by phone (719) 531-6333, x2391 through Fri., Aug. 4 at noon, and will be available for purchase with cash/check at the door.