Image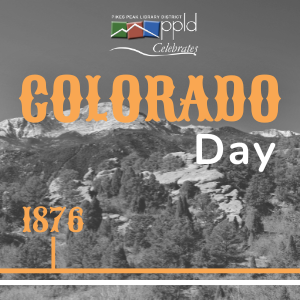 Celebrate Colorado Day Mon., Aug. 1 and enjoy other events throughout the month of August.
---
Genealogy Basics (Colorado Edition)
Are you interested in researching your genealogy, but aren't sure where to start? Join us for an introduction to basic genealogy research strategies including getting started, organizing research, and selecting and searching for records.
In celebration of Colorado Day, this month's Genealogy Basics classes will focus on researching your Colorado ancestors!
---
Gift of History Family Fun Day at the Colorado Springs Pioneers Museum
Fun for children, families, and adults.
Children's booth with the Pikes Peak Poet Laureate participating.
Greenscreen photo booth – Take a picture with a historical photo background!
Sat., Aug. 6 – 10 a.m. – 2 p.m.
---
The History of the Alexander Film Company
In celebration of Colorado Day, join us for this exciting look into our local history! Established in Colorado Springs in 1927, the Alexander Film Company was the largest producer of advertising playlets for movie theaters in the country. They created the concept of television commercials, which they also produced in the 1950s with the introduction of the television format. At one time, the Alexander Film Company had 600 employees in Colorado Springs and manufactured the popular Alexander Eaglerock biplane until 1931. This presentation will also share video clips of the Alexander Film Company's award-winning commercials and animations. Did you know? PPLD's archival collections include the Alexander Industries Photograph Collection, which focuses on the staff, activities, and products of the various companies that, over the years, made up Alexander Industries. Take a look at our Digital Collections!
---
Resources:
Adult
Have you checked out our digital archive? PPLD's Digital Collections features historic photographs, pamphlets, manuscripts, maps, oral histories, films and more that highlight the rich history of the Pikes Peak region. The materials come from the Special Collections of Pikes Peak Library District, housed in the 1905 Carnegie Library in downtown Colorado Springs.
Pikes Peak NewsFinder is our local historical newspaper index. This index contains citations to and scanned images of local news articles and obituaries from the Colorado Springs Gazette and other local newspapers from as early as the 1870s!
Children/Families
Need homework help? Check out our Colorado Homework Help page to get started with biographies, databases, and recommended websites.
---
Website Links:
Adult
Visit PPLD's Regional History & Genealogy page to learn how you can research our local history. We have historic photos, manuscripts, books, and more!
Visit PPLD Special Collections' Facebook page in August! We'll be posting fun facts about Special Collections all month long!