Pikes Peak Library District is
collecting stories, images, and videos about the COVID-19 pandemic
. Residents of the Pikes Peak Region are invited to share their stories and experiences.
Special Collections is currently open for reduced hours, as Pikes Peak Library District works to make our services available to patrons during the COVID-19 pandemic. Please
contact our team
so we can assist you remotely, help you make a reservation to do research on-site, and more.
Here are some helpful tips for using our services
. Please review information on
PPLD's approach to reopening
to understand what you can expect when you return to the library before visiting.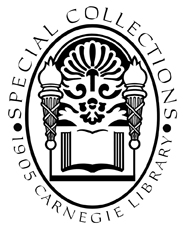 Regional history and genealogy collections at Pikes Peak Library District are held by Special Collections in the 1905 Carnegie Library. The Regional History collection includes books, maps, manuscripts and archives, photographs, oral histories, films and videos, government documents, pamphlets, periodicals, and other materials related to the history of the Pikes Peak region. The Genealogy collection contains extensive family history research materials, covering the entire United States from Colonial times to the present, including books, periodicals, and access to major genealogical databases.

There are multiple ways to contact our team:

By Phone:

Regional History: (719) 531-6333, x1253
Genealogy: (719) 531-6333, x1252
Regional History Resources
Genealogy Resources
Many of the resources can be used for both genealogy research or research on the region.
What's New in Special Collections
Reading Lists