Image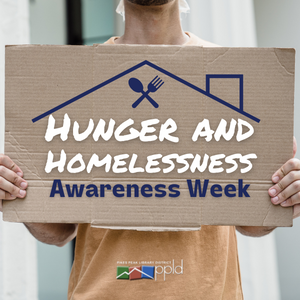 Pikes Peak Library District (PPLD) Collects to Share is once again putting out the call to collect crafted items for our community shelters. Starting in November, as part of Hunger & Homelessness Awareness Week, we will be accepting donations every month for a year. If you have knitted items such as hats, scarves, socks, and blankets that you would like to donate, please bring them to the public desk at any PPLD location and let staff know that they are for PPLD Collects to Share.
---
Resources
This guide provides a list of services available to those in El Paso County. This includes topics such as housing assistance, veteran services, shelters, food, and crisis services that are available in the community.

PPLD is a part of the National Safe Place network, working with local youth shelter, The Place, to provide resources to teens in crisis. If you are a teen and need a safe place - for whatever reason - all you need to do is come in to any PPLD library and tell a staff member that you need a safe place. The staff member will take you to a quiet area and contact The Place, who will help you with the next steps. It is safe, confidential, and 100% up to you. The volunteer from The Place won't tell you what to do, but they will get you the help you want and need. Please visit the National Safe Place homepage [nationalsafeplace.org/] for more information about the program.