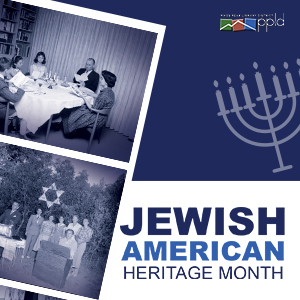 Celebrate Jewish American Heritage Month with PPLD!
---
Library Crafts: Felt Flower for Shavuot
Take and Make available on Fri., May 7 at all locations.
In celebration of Jewish American Heritage Month, take home everything you need to make your very own Felt Flower for Shavuot. All materials will be included (you will need a glue gun and scissors), along with a brief history of the significance of Flowers for Shavuot. For ages 18+.
---
Resources
---
Regional History & Genealogy Resources
Archival Collections
Website Links:
Jewish American Heritage Month: The Library of Congress, National Archives and Records Administration, National Endowment for the Humanities, National Gallery of Art, National Park Service and United States Holocaust Memorial Museum join in paying tribute to the generations of Jewish Americans who have helped form the fabric of American history, culture and society.