Image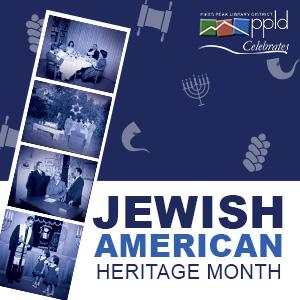 Celebrate Jewish American Heritage Month with PPLD!
---
Resources
---
Regional History & Genealogy Resources Archival Collections
Colorado Springs Jewish History Project Records, 1920-2013 (Archival Collection MSS 0419) The Colorado Springs Jewish History Project records consist of oral history interviews, photographs, and a documentary film.
Archival Collection MSS 0415) and Mohl Family Photographs (Digital Photograph Collection)

Leo and Hertha Mohl were long-time residents of Colorado Springs, small business owners, dairy farmers, and world travelers. They were also some of the first European war refugees to live in Colorado Springs.
Hertha Mohl was born in Vienna, Austria, and worked as a dressmaker until, after almost getting caught passing out anti-Nazi literature, she smuggled herself into England. While living in London, Hertha served in the British Air Raid Precaution Service. Also born in Vienna, Leo Mohl served as secretary of the trade union movement. Leo was taken to concentration camps in Dachau and Buchenwald for his political activities. In 1939, he was released and immigrated to England, where he met Hertha.
The Mohls immigrated to the United States in 1940, eventually making their way to Colorado Springs. They raised dairy cows on farmland that is now owned by the Air Force Academy, operated a bookstore called The Book Home, and owned a reweaving shop called Master Weavers of America.

Various Photographs (from PPLD's Digital Photograph Collection) Photographs of the Colorado Springs Jewish Community.
Books from the Carnegie Library - Special Collections (Some titles are available for checkout from other library locations)
Website Links: Jewish American Heritage Month: The Library of Congress, National Archives and Records Administration, National Endowment for the Humanities, National Gallery of Art, National Park Service and United States Holocaust Memorial Museum join in paying tribute to the generations of Jewish Americans who have helped form the fabric of American history, culture and society.