Beasley, Elizabeth An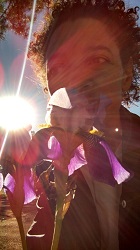 Occupation(s):
Author - Public Speaker - Professional Singer
Biography:
Living in the Colorado mountains serves as Elizabeth's inspiration for writing poetry and other inspirational works. She has been writing, speaking, singing, and inspiring people since the age of 8. She is now raising her grandson due to drug addiction and her daughter, and speaks out as often as possible encouraging all to "Not even try it one time!". Her heart's desire is to impact young and old alike to be their very best.
The Pikes Peak Library District shows such total support for local writers that Elizabeth is inspired to reach out and touch those in the district whose lives have been altered by drug abuse or any other factors, and who are in need of encouragement. Elizabeth can be reached for speaking engagements at church groups, schools, or social groups by calling (303) 745-0430, or email her at abalancedsole@live.com
Education/Training:
Denver University - Certified Reflexologist - Minister of Peace
Speaker Topics:
Unlocking your creativity - Turning trauma into triumph - Grandparents raising grandchildren - Supporting second-time parents - War on Drugs: In the Trenches with our Young People