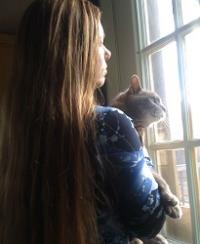 Birth City
Colorado Springs
Current Location
Colorado Springs, CO
Occupation(s)
Writer - English Faculty at PPCC
Biography
Brook Bhagat was born here in Colorado Springs. She went to high school in Woodland Park. After graduating from Vassar College in New York, she came back to work as a photojournalist for the Ute Pass Courier. She then went to India, where she met her husband, Gaurav. They began writing freelance articles together which were published in dozens of journals and magazines, including Ecoworld and Little India. Four years later, they returned to Colorado Springs, where they both currently work at Pikes Peak Community College--he teaches math and she teaches English, Poetry and Creative Writing. In 2013, they created Blue Planet Journal, which Brook edits and writes humor and nonfiction for. In 2016, Brook got her MFA from Lindenwood University in Creative Writing. Her poetry and fiction have since appeared in Monkeybicycle, Empty Mirror Magazine, Harbinger Asylum, Lotus Eater Magazine, Rat's Ass Review, A Story in 100 Words, Anthem: A Tribute to Leonard Cohen, the local literary magazine Almagre Review, and many other journals and anthologies. She has hosted and read her work at PPCC and local readings as well. Her first poetry collection, Only Flying, is due out Nov. 16, 2021 from Unsolicited Press; other current projects include a literary fantasy novel, a second poetry collection, and an early readers chapter book about two young children in rural India. See more at www.brook-bhagat.com or reach her on Twitter at @BrookBhagat.
Education/Training
MFA, Lindenwood University - BA, Vassar College
Published Works
Full-length poetry collection "Only Flying" due out Nov. 2021 from Unsolicited …
"The Lady Scarecrow" and "My Nothing Burned Down to the Center of the Earth," L…
"The Homes of Birds," A Walk with Nature Anthology, University Professors Press…
Excerpt from "The Goddess Becomes," A Story in 100 Words, July 2019
"Good Dream Bad Dream" in author Beth Boldman's article about micropoetry in Pa…
"She Comes in on a Peahen" and "Downwelling," Harbinger Asylum, December 2018
"The Goblin King Slips an Empty Sting," A Story in 100 Words, November 2018
"Letter to an Unborn Daughter (Fist Girl)," The Almagre Review, August 2018
"The Golden Thread Part Two," A Story in 100 Words, July 2018
"The Golden Thread Part One," A Story in 100 Words, June 2018
"The Way the World Ends," A Story in 100 Words, April 2018
"There Is a Mother Waiting for You, a Kangaroo," Peacock Journal Anthology: Bea…
Organizations
Founder and current member of the Nearby Universe, a PPCC Creative Writers group for faculty and staff - Member of AWP
Speaker Topics
I can speak on the practical steps involved in becoming a writer, or what surrealist poetry and weird fiction is. I would love to connect this to reading my work and/ or having a Q & A near the release of my book in Nov. 2021. I teach college poetry writing and could do a workshop for teens/ adults on prose poetry, especially using a technique called "Going Cold," in which participants create a 100-word piece of prose poetry/ flash fiction. I could also do other kinds of poetry workshops as requested/needed.