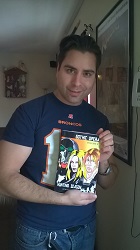 Current Location
Colorado Springs, CO
Occupation(s)
Primary Technical/Editor Writing
Biography
Peter E. Boroch is a former Marine, husband, and proud father. He is the author of the science fiction/military series Gothic Opera and the hard-boiled/mystery book The Man in the Leather Jacket: Predator Games. Peter studied art at Calhoun College and writing at American Military University. Peter is always eager to speak with fans and interact with fellow authors. In his free time, Peter enjoys spending time with his family, reading comics, drawing, writing, killing aliens on his Xbox, and working on the next great American novel!
Education/Training
Bachelor of Arts in English, emphasis on Creative Writing, American Military University, 2016
Organizations
Phi Theta Kappa - Sigma Delta Kappa - Golden Key International Honor Society
Speaker Topics
Author is available to speak on a wide variety of subjects.