Jackson, Jene'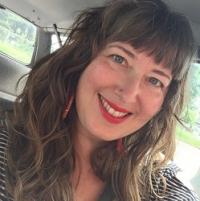 Occupation(s):
Motivational Speaker - Author
Biography:
Jené Jackson is the author of The Oat Project: How I Faced My Fear and Came of Age in One Wild Summer, a memoir about how she finally sowed her wild oats, doing 25 things her preacher's daughter upbringing never allowed, like getting drunk, dancing, skinny dipping, smoking weed, and more…at the ripe age of 37 while a wife and mother of three. She was raised all over the U.S. as a preacher's daughter before finally rebelling.
When she's not working on her first novel and the sequels to her memoir, she's photographing, belly laughing with friends, making art, singing jazz, or squeezing words from her teenage children while driving them home from school. She lives in Colorado Springs and even does yoga and hikes every now and then like a good Coloradan.
You can connect with her on Facebook at www.facebook.com/JeneJ, on Instagram at www.instagram.com/spiralspiral, and at www.jenejackson.com.
Speaker Topics:
Integrating the Wild into everyday life - The writing process - Writing memoir - How to finally, really love yourself