Janiec, Kenneth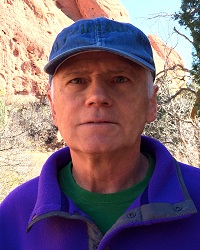 Occupation(s):
Principal Technical Support Engineer - Oracle
Biography:
I work for Oracle Corporation as a principal technical support engineer. My wife, Judi, and I live in Colorado Springs, CO with our two basset hounds, Zoë and Dexter, and Zeke, an American black-and-tan coonhound. 
I am an avid skier and outdoor enthusiast and a former PSIA-certified ski/snowboard instructor at Monarch Mountain and Breckenridge Ski Resort in Colorado. Dangerous Slopes is my first novel.
Personal Anecdotes: I learned to ski in the Adirondack Mountains of New York State. For a number of years, I worked part-time as a ski patroller in Pennsylvania. Moving to Colorado 20 year ago, I became a snowboard and skiing instructor at two well-known resorts. I thought would it be interesting to write a story about Colorado ski resorts and the environmental issues facing all resorts in the west. I wanted to highlight what it takes to be a instructor and how much fun it is to teach this great sport. In addition, I have worked with computers for most of my career and wanted to weave that aspect into this story.
About the book: "A former ski and snowboard instructor, Kenneth Janiec again aims his attention at the slopes for his first novel. Janiec sets Dangerous Slopes in the fictional ski town of Elks Run, Colo. When the resort's newly installed gondola comes crashing down at the apparent hands of a saboteur, Doyle and his basset hound, Stanley, find themselves in the middle of a whodunit. Janiec has the basics of fiction writing down: There's a solid plot, a fairly plausible crisis and an ultimate resolution. As a technical support engineer with Oracle and the owner of two basset hounds, Janiec clearly writes about what he knows..." - BlueInk Review
Organizations:
Kenneth Janiec is a former volunteer with El Paso County Search and Rescue and Citizen's Patrol.
Speaker Topics:
My Book "Dangerous Slopes" - Skiing and snowboarding in Colorado