MavaJoyce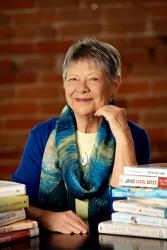 Occupation(s):
Retired - Volunteer with Finding Our Voices
Biography:
Joyce Aubrey has been in Colorado Springs since 1995; an avid reader she has actively engaged PPLD. As a survivor of incest and family sharing, she advocated in the community using healing paintings to speak to various groups including military, faith, mental health, domestic violence/sexual assault and service clubs about the aftershocks of sexual abuse.
In October 2019 she published a memoir of hope and inspiration, Beyond Aftershocks, under the author name MavaJoyce. As founder of the non-profit Finding Our Voices, she continues to serve survivors of sexual violence through creative art events and supportive activities.
Awards/Honors:
Colorado Coalition Against Sexual Assault (CCASA) - Excellence in Advocacy Award
Leadership Pikes Peak - Leading the Way in Community Service
Institute for Conflict Resolution & Creative Leadership - Servant Leader Award
First Congregation Micah 6 Award - Do Justice, Love Kindness, Walk Humbly
Education/Training:
Kansas State University - Bachelor's and Master's degrees
Organizations:
Colorado Coalition Against Sexual Assault - American Association of University Women - Finding Our Voices
Speaker Topics:
Beyond Aftershocks: Resilience after Trauma - Navigating Post Traumatic Growth - Self-Compassion as a Doorway to Service