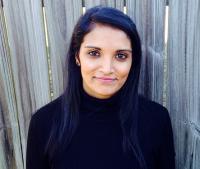 Birth Year (-Died Year)
1983
Current Location
Colorado Springs, CO
Occupation(s)
New York Times bestselling author
Biography
Sandhya Menon is the author of the YA rom-com When Dimple Met Rishi (Simon and Schuster, May 2017), which has been hailed by Bustle magazine as "the arranged marriage YA rom-com we've been waiting for." She was born and raised in India on a steady diet of Bollywood movies and street food. She pretty much blames this upbringing for her obsession with happily-ever-afters, bad dance moves, and pani puri. Sandhya currently lives just outside Colorado Springs, where she's on a mission to (gently) coerce her husband, son, and daughter to watch all 3,220 Bollywood movies she claims as her favorite.
Awards/Honors
2018 Colorado Book Award Winner - When Dimple Met Rishi (Young Adult Fiction category)
Speaker Topics
The craft of writing, current topics in the field of publishing (ex., the importance of diversity and how to include it
thoughtfully, how to write to a teen audience, how to write the immigrant experience), finding an agent, the process of going out on submission, working with an editor, what a debut year can look like, the importance of
book bloggers and librarians--and many others!