Rambeau, Erin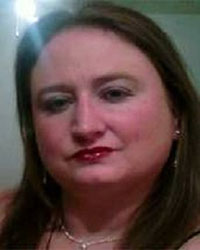 Occupation(s):
Clerk at a library ... AND an author
Biography:
I started writing when I was young. I wrote short stories such as "I, ripper" and "Whose in the titanic?" But I never wrote a complete novel until "The Werewolf, the Librarian and I" series. I plan to keep the series going.
I have traveled the world while my father was in the army. I spent time in Germany, California and Connecticut. I have a younger brother and an older sister, 4 beautiful nieces and I am old enough to have a great nephew.
I have made my first book "The werewolf, the librarian and I" into a music video and put it on YouTube. It is called "Animals of the night". I am creating a second music video for my second book "WLI: The War!". This music video will also be put on YouTube and will be called "Fire of the night".
Education/Training:
Pikes Peak Community College - Fountain/Ft. Carson High School (1996) - November 2002 through present, Fountain Branch Library
Speaker Topics:
New self published authors - How to market yourself - How to make your book more famous - being a self published author, that is making it big WITHOUT an agent and publishing house