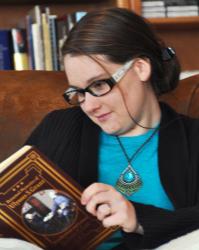 Current Location
Colorado Springs, CO
Occupation(s)
Author - Publisher - Homemaker
Biography
Two-time winner of the Christian Indie Award for historical fiction, Amber Schamel writes riveting stories that bring HIStory to life. She has a passion for travel, history, books and her Savior. This combination results in what her readers call "historical fiction at its finest". She lives in Colorado Springs near her favorite mountain, in a small "castle" with her prince charming. Between enjoying life as a new mom, and spinning stories out of soap bubbles, Amber loves to connect with readers and hang out on Goodreads with other bookish peoples. Amber is a proud member of the American Christian Fiction Writers Association. Visit her online at www.AmberSchamel.com and download a FREE story by subscribing to her Newsletter!
Awards/Honors
2016 Christian Indie Award - "Dawn of Liberty"
2017 Christian Indie Award - "Solve by Christmas"
Organizations
American Christian Fiction Writers