Steven Bivens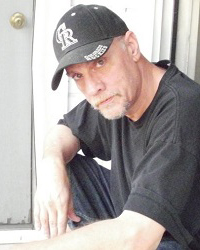 Biography:
At the age of 12 my family and I visited my brother while he was stationed at Ft. Carson. It was the first time that I ever saw mountains and in my young mind I told myself that one day I would live by these mountains. It is now over 45 years later and I am. But I encountered lifetime of experiences before fulfilling my childhood dream.
I am from the Midwest, a flatlander. I have been a probation officer, an explosive detection trainer, a trainer
for an inmate telephone company, a research analyst, and an instructor at a college here in Colorado Springs. I have travelled the world, dined at the 125 year old mansion of the former Chicago Bears' owner George Halas, and waded in the Bohol Sea. I have experienced a number of tragedies - I survived a haunting divorce, endured a 35 year ordeal which started with my father getting shot and killed when I was 22 years old, and there are many others.
But I have always fought back - with the help of my magnetic Colorado mountains I have come full circle - and now, I am living once more.
Published Works:
Mindanao: A Journey Through Life (Lulu Press, 2013)
Back to Mindanao (forthcoming)
Camiguin Gold: Island Riches Discovered (Lulu Press, 2013)
Out West: US 36 Travels (forthcoming)
Performance, Sport Cards and Racial Bias: A Cooperstown Perspective (University of Louisville)
Race, Centrality and Educational Attainment: A NFL Perspective (University of South Alabama)
Paper Bullets (article, "The Numismatist" magazine)
One of Your Pretty, Little, Ingenious Men (article, "The Numismatist" magazine)
Thank You, Mr. Ellery (article, "The Numismatist" magazine)
Rusty Journals (article, "Classic Toy Trains" magazine)
Population: People vs. Copper ("Early American Coppers")
An Old Cent Twist ("Early American Coppers")
Education/Training:
Bachelor of Arts, Illinois State University
Speaker Topics:
Criminal justice - Writing - Motivational - Travel - Numismatics - Job searching