Williscroft, Robert G.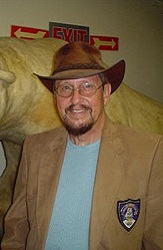 Occupation(s):
Retired submariner - Diver - Scientist - Businessman - Adventurer - Author
Biography:
Dr. Williscroft is a retired submariner, diver, scientist, businessman, adventurer, author. He spent 22 months underwater, a year in the equatorial Pacific, three years in the Arctic, a year at the Geographic South Pole. He has appeared on dozens of talk shows, the Michael Medved show, CNBC, and FOX News. He lives in Centennial, Colorado, with his family.
Awards/Honors:
Operation Ivy Bells - 2016 NABE Pinnacle Book Achievement Award for Adventure; 2016 Shelf Unbound Notable Indie Book; 2016 Library Journal Self-e Selection; 2018 Top Shelf Adventure Award
Slingshot - 2016 NABE Pinnacle Achievement Award for Science Fiction
The Starchild Compact - 2017 NABE Pinnacle Achievement Book Award for Science Fiction
The Iapetus Federation - 2018 NABE Pinnacle Achievement Book Award for Science Fiction
Education/Training:
MS & PhD Engineering, California Coast University - BS Marine and Atmospheric Physics, University of Washington
Organizations:
Colorado Authors' League - Science Fiction Writers of America - Libertarian Futurist Society - Los Angeles Adventurers' Club - Mensa - Military Officer's Association - American Legion - NRA
Speaker Topics:
Submarines in the Cold War - The Arctic & Antarctic - Saturation diving - Hard Science Fiction (space launch loop, space elevator, faster-than-light travel) - Climate change - The "Hole" in the Ozone