Image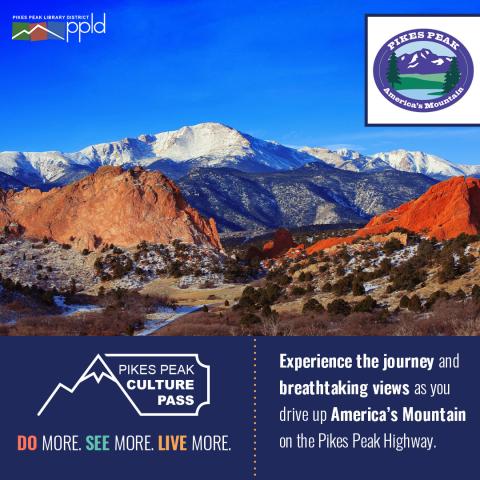 Beginning Tue., Sept. 19, library cardholders will be able to check out no-cost passes to Pikes Peak – America's Mountain thanks to the Culture Pass program. Patrons can check out passes to explore this cultural attraction seven-days-a-week through April 30, 2024.
Take in breathtaking vistas from the top of the mountain you call home. Colorado is known for its fourteen-thousand-foot mountains (14'ers), which thousands of people endeavor to climb every year. Pikes Peak's scenic highway offers a unique opportunity for people of all ages and abilities to experience the beautiful terrain that Colorado's 14'ers have to offer. Conditions on the Summit can be wildly different than at the base of the mountain, so be sure to plan ahead and check condition and safety information before your visit. 
The pass grants access to the Pikes Peak Highway, and depending on the weather, patrons may enjoy the Summit House and Visitors Center at the top or the many beautiful interpretive stops along the way. With the addition of Pikes Peak – America's Mountain, the Culture Pass program offers PPLD patrons 12 cultural attractions throughout El Paso and Teller counties and Denver. For more information about Pikes Peak Culture Passes visit ppld.org/culturepass.
Note on visiting the Summit in September:
Your Pikes Peak Culture Pass will serve as your no-cost admission ticket (for up to two adult admissions and two children's admissions) to drive on the Pikes Peak Highway. Access to the Summit by personal vehicle is currently on a reservation system through Sat., Sept. 30, which is not automatically reserved by your Pikes Peak Culture Pass. If you want to ensure that you will have a parking spot on the Summit during the month of September, you will need to make a reservation by clicking here.