Image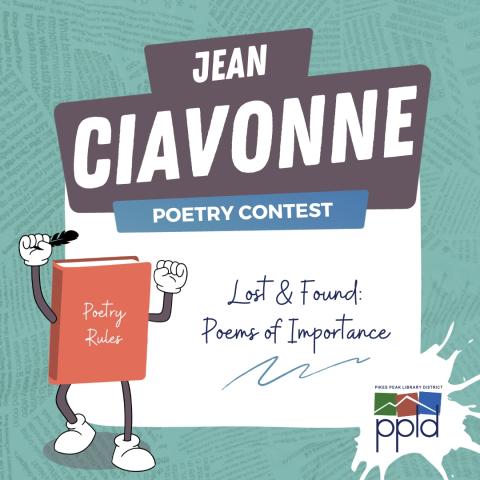 Poetry creates opportunities for children to explore a variety of topics and emotions through writing, and Pikes Peak Library District's annual Jean Ciavonne Poetry Contest engages 4th and 5th grade writers. Submissions are open from Fri., Dec. 1 – Fri., March 1. This year's theme is Lost & Found: Poems of Importance. Young poets can reflect on something they have lost or found in the last few years as they work with poetic devices like imagery, form, meter, and rich vocabulary to create an original poem for a chance to win a prize. This contest continues Jean Ciavonne's legacy of connecting children with poetry and writing.  
Lost & Found: Poems of Importance
What have you lost AND what have you found in the past few years? What makes them important?
Questions to ask yourself as you write your poem:
Can we see, smell, hear, and taste the imagery in your poem?
Have you used rich vocabulary that tells us a story or paints a picture?
Does your poem reflect the theme?
Prizes: Six winners will receive a book and $50 each! The contest is open to all 4th and 5th graders in the Pikes Peak Region.
---
Eligibility
Open to all 4th and 5th graders in the Pikes Peak Region.
---
Contest Rules
One entry per student. Teachers are urged to review poems and submit no more than five per class.
Each poem must be the original work of the contestant. 
Poems will be judged on originality, including poem title and adherence to the theme. 
Submit two typed, double-spaced copies of each poem on 8 ½" x 11" paper (no handwritten submissions or illustrations will be accepted.) Include ON A SEPARATE PIECE OF PAPER: name, telephone number, home address, school name and address, and teacher and principal's names. Poems will not be returned. Please keep a copy. 
Entries must be postmarked by Fri., March 1, 2024. Submission of a poem constitutes full permission to exhibit, use and publish the poem for any purpose – printed or electronic media – and to publish the name, school, and photographs and/or video of the student without compensation. 
Winners will be celebrated at an Awards Ceremony where they will be given the opportunity to read their poem to the audience. 
Entries may be mailed to: 
The Jean Ciavonne Poetry Contest
c/o Christa Funke 
Pikes Peak Library District 
P.O. Box 1579 
Colorado Springs, CO 80901-1579 
Or email entries, following guidelines above to: cfunke@ppld.org 

The awards will be announced in April. 
---
Jean Ciavonne Remembered from PPLD TV on Vimeo.
---
Congratulations to our 2023 winners!