Challenges at PPLD
Last updated September 1, 2019
Since the 70's PPLD has had 310 challenges to books, magazines, movies, and other media. Many of these you may no longer find in our Catalog but we assure you, it was not because they were challenged. Over the years, as media has shifted more to digital platforms, we simply cannot carry everything!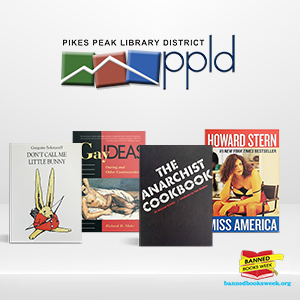 Don't Call Me Little Bunny by Gregoire Solotareff

Reasons: violence, gangs (5 challenges)
Summary: (1987) Jack, the Little Bunny, doesn't like being called that and he doesn't think being the smallest rabbit is much fun, either. Why can't he be a normal rabbit with a normal name just like everyone else?

Gay Ideas: Outing and Other Controversies by Richard Mohr

Reasons: Homosexuality (5 challenges)
Summary: (1992) Philosopher Richard Mohr's articulate exposition of the moral dilemmas facing the gay community, Gay Ideas, addresses, in diverse and often shocking ways, how gays ought to represent and position themselves in the face of an increasingly threatening climate of homophobia, repression, and violence. Includes 36 illustrations.

Miss America by Howard Stern

Reasons: Sexually explicit (4 challenges)
Summary: (1995) Shock-jock radio host Howard Stern shares his own offbeat, outrageous views, and offensive observations on life, the world, modern American society—and more.

The Anarchist Cookbook by William Powell

Reasons: Drugs, alcohol, smoking, violence (3 challenges)
Summary: (1971) Contains instructions for the manufacture of explosives, rudimentary telecommunications phreaking devices, and related weapons, as well as instructions for home manufacturing of illicit drugs, including LSD.

Animalia by Graeme Base

Reasons: occult/satanism (2 challenges)
Summary: (1993) A noted artist presents an imaginative, whimsical journey through the letters of the alphabet, in a beautifully illustrated book that introduces a menagerie of familiar and exotic creatures.

Aperture Magazine

Reasons: Nudity, sexually explicit (2 challenges)
Summary: (1952) Based in New York City, is an international quarterly journal specializing in photography. Aperture magazine is the flagship publication of Aperture Foundation.

The Bear and the Fly by Paula Winter

Reasons: Unsuited for age group, violence (2 challenges)
Summary: (1976) A bear tries to catch a fly with disastrous results.

Glory Hole Murders by Tony Fennelly

Reasons: Offensive language, homosexuality (2 challenges)
Summary: (1985) The gay, New Orleans aristocrat, Matt Sinclair, solves a murder of a supposedly straight family man in the men's room of a gay bar.

Grandpa's Witched Up Christmas by James Flora

Reasons: Unsuitable for age group (2 challenges)
Summary: (2018) When Grandpa was a boy, the most terrible thing happened to him the day before Christmas. While taking a shortcut through the woods, he met three fearsome witches. One, with sharp teeth and hair like an un-mowed lawn, pointed her finger at him, squealed, "Sha-zam!" and turned him into a snake. The second witch, who didn't have any feet, turned him into a turkey buzzard. And the third-tall and warty-screamed, "Ta-pooty!" and changed him into a pig. Home he ran, but his parents wouldn't let him in.

I Wish I had a Pirate Suit by Pamela Allen

Reasons: Nudity (2 challenges)
Summary: (1991) When Peter wears his pirate suit, his little brother had better beware--because Peter is the captain and his little brother is the crew. But there's one thing for little brother to look forward to, and that's the day Peter outgrows his pirate suit . . . and his galley slave becomes captain. Full-color illustrations.

Lost in the Store by Larry Bograd

Reasons: Unsuitable for age group (2 challenges)
Summary: (1981) Bruno is worried when he becomes separated from his parents in a large department store, until he meets Molly, who shows him the joys of being lost.

Lucy Dove by Janice Del Negro

Reasons: Occult/satanism (2 challenges)
Summary: (2001) While sewing the laird's trews by moonlight in a haunted churchyard in return for a sackful of gold, an aging seamstress outwits a terrible monster.

Secrets, Spells, & Curious Charms by Monika Beisner

Reasons: Occult/satanism (2 challenges)
Summary: (1985) This illustrated compilation of rhyming spells, chants, and incantations draws on traditional lore from around the world.

Sweet Movie by Maran Film

Reasons: Sexually explicit (2 challenges)
Summary: (1974) The winner (Carole Laure) of the Miss World Virginity contest marries, escapes from her masochistic husband, and ends up involved in a world of debauchery.

Who Framed Roger Rabbit? by Steven Spielberg

Reasons: Unsuited for age group, sexually explicit (2 challenges)
Summary: (1988) Down-on-his-luck private eye Eddie Valiant gets hired by cartoon producer R.K. Maroon to investigate an adultery scandal involving Jessica Rabbit, the sultry wife of Maroon's biggest star, Roger Rabbit. But when Marvin Acme, Jessica's alleged paramour and the owner of Toontown, is found murdered, the villainous Judge Doom vows to catch and destroy Roger.

The Boy Who Ate Around by Henrik Drescher

Reasons: Unsuited for age group (2 challenges)
Summary: (1994) After Mo refuses to eat his supper of cheese souffle and string beans, he turns into a ferocious monster and eats his parents. He then proceeds to eat everything--everything but the cheese souffle and string beans. Mo transforms himself into increasingly monstrous monsters as he eats his way through his home and neighborhood, the country, the world, until he is left hanging from the moon.
---
Pikes Peak Library District (PPLD) believes in freedom of information for all and does not practice censorship. The selection of library materials is predicated on the patron's right to read and freedom from censorship by others. Library materials may be controversial and any given item may offend some person. Selections for the Library are made solely on the merits of the material, in relation to the development of a collection that serves the needs and interests of a diverse population.
Community members are always welcome to submit a reconsideration request form for library materials.
Please see our Challenge Materials Policy for more information.