Image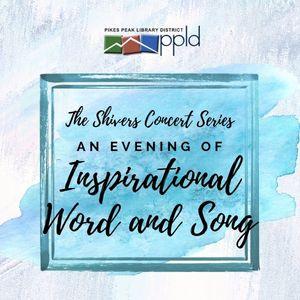 Returning on Sun., July 31, after a two-year absence, the Shivers Concert Series at Pikes Peak Library District presents "An Evening of Inspirational Word and Song" in honor of Ms. Opal Lee, the "Grandmother of Juneteenth," featuring special guest Ms. Gigi Coleman, great grandniece of Bessie Coleman the first female African American pilot.
The evening's musical guests include
John Redmon – Pianist
Stevie Astley – Soprano
Pikes Peak Community College Choir
The RoomHouse Multicultural Choir
Charles Swinton
This year's concert is being offered at no charge. Seating is limited, however, so RSVPs are still required. To RSVP, please visit: tinyurl.com/shiversinjuly.
Donations to the Shivers Fund at Pikes Peak Library District will be accepted at ppld.org/foundation/donate.