Have an adventure with Pikes Peak Library District this summer! Our Summer Adventure presented by Children's Hospital Colorado game is BACK to help keep kids and teens stay engaged and active over the summer months. We know you're looking for engaging and stimulating ideas, and we are here to help!
Win prizes through reading, moving, and imagining! Either participate in one of our programs or use one of our activity ideas.
Programs Highlights
---
READ
Read a book your parents (or another adult you like) loved as a teen.
Read a book about someone who is different from you.
---
IMAGINE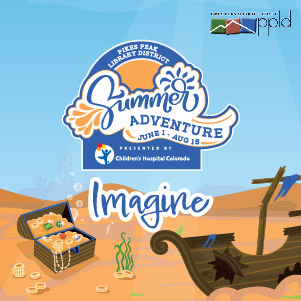 Create something with materials you found in or around your living space. What did you create?
Spend at least an hour making something (this could be anything: food, artwork, woodworking projects, a science experiment, etc.). Check out our YouTube channel for project ideas!
Create something online! Use block coding to construct a game, start a blog on something you are passionate about, or make music.
Talk to someone (in person or virtually) about their life story. You can use the StoryCorps App for help getting started or come up with your own questions.
Do a Random Act of Kindness for someone else.
Treat yourself to a self-care activity! Check out PPLD virtual self-care programs.
Write letters to members of the military! Visit operationgratitude.com for more information.
Visit one of the attractions with the Pikes Peak Culture Pass! Check out all the participating organizations and make a reservation at https://ppld.org/culturepass.
---
MOVE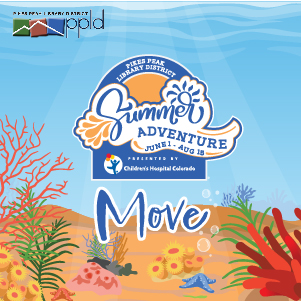 Take a walk around your neighborhood.
Dance like nobody's watching! Learn a dance online or just dance around your home. Eight songs is approximately equal to 30 minutes. Use Freegal for free!
Go for a run. Try to run for 30 minutes, but walk as much as you need to. By the end of the summer, you might be able to run for 30 minutes without stopping!
Practice yoga. New to yoga? Check out the Great Courses: Yoga on Kanopy, which is free with your library card.
Complete sports drills: work on your dribbling, serve, spike, spiral or whatever pertains to you.
Jump rope.
Hula hoop.
Try a form of exercise or learn a sport that is new to you.
Ride your bike.
Go outside - hike or visit a park nearby.