Image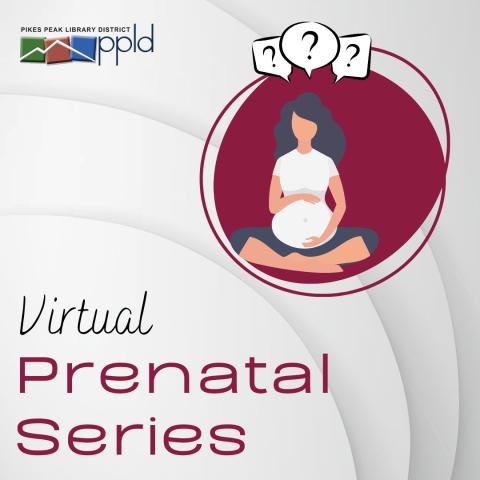 Are you expecting and have so many questions? Join Pikes Peak Library District and Nurse-Family Partnership for a series of prenatal classes. Classes are every Wednesday at noon. Each week we will explore a different topic followed by a Q&A session.
---
*This is a six-week series. Register for the first session in the series to receive the Zoom link. The same link will be used for each session. Sessions will be recorded and sent to registrants.
Each session attended earns you an entry for a prize to be given away at the conclusion of the series. You can earn up to six entries!
Click here to register for the Virtual Prenatal Series!
Wed., Feb. 7: Birth Plan, Labor & Delivery, and First Week     
This session will cover birth plans and alternatives to medicines. We will discuss medications you may encounter in the hospital, the first week after birth, what happens in the hospital, and more!
Wed., Feb. 14: Postpartum: The first six weeks     
Wonder what life will be like the first six weeks after your baby is born? At this session, we will discuss healing, rest, and mental health in postpartum. Learn about self-care during pregnancy and after the baby's arrival, so you can take care of yourself, too!
Wed., Feb. 21: Sleep and Purple Crying     
Having trouble getting enough rest? Learn techniques to help you and your newborn rest. Discover what the Purple Crying Period is and tools you can use to help calm your baby.
Wed., Feb. 28: Breastfeeding     
This session will cover breastfeeding how-to's, latching, support, education, and more!
Wed., March 6: Nutrition and Infant Feeding     
Do you wonder what nutrition looks like during pregnancy and postpartum? We will discuss nutrition for mom and also look at infant feeding. Learn about Women Infant Children (WIC) and the resources it offers.
Wed., March 13: Building Your Baby's Brain     
This week learn about brain development and the five early literacy practices to begin at birth. A representative from Peak Vista's First Visitor home visitation program will also provide information and answer questions.