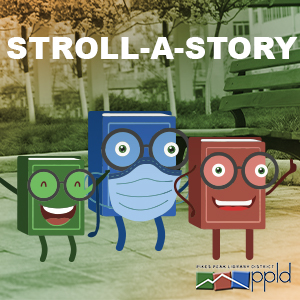 Walk together and enjoy the benefits of a wonderful children's book and some physical activity.
There's a fun story at many of our Library locations, waiting for you to read it.
Titles are subject to change, so please contact your Library before visiting.
Tag us on Facebook @PPLDKids and let us know what you think!
Are you ready? Let's go!
---
Downtown Strolls
North Route:
I Like Myself! by Karen Beaumont, illustrated by David Catrow
South Route:
Cheer: A Book to Celebrate Community by Uncle Ian Aurora, illustrated by Natalia Moore
Bread & Butter Neighborhood Market
I Could Be, You Could Be by Karen Owen and Barroux
---
Silly Stroll
Be on the lookout for our Silly Stroll at a Library near you in the Library windows or on the lawn! Enjoy time outside with the family doing silly activities, making noise and wiggling around. Maybe you can think of some new silly things to do!