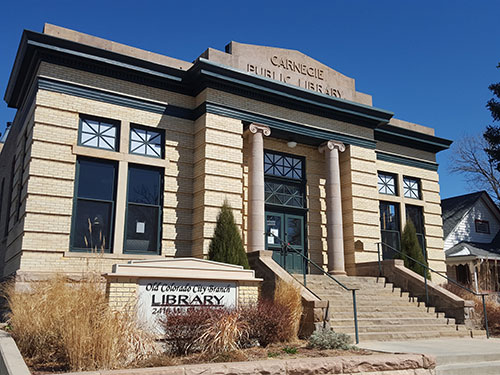 Old Colorado City Library's front entrance will be closed from Mon., May 8 – Fri., May 26 for necessary repairs to the historic sandstone steps and building brickwork. The library will remain open during this time, accessible from the parking lot side entrance.
All you need is your library. But your library needs you, too! Support Pikes Peak Library District by making a charitable gift to the PPLD Foundation. Click here to make your donation today. Thank you!
---
Address: 
2418 West Pikes Peak Ave. - map it! 
Colorado Springs, CO 80904
Phone: (719) 531-6333, x7006 
Curbside Pickup Phone Number: (719) 634-1698 
Contact Us
Hours: 
Monday: 9 a.m. - 7 p.m. 
Tuesday: Closed 
Wednesday and Thursday: 9 a.m. - 7 p.m. 
Friday and Saturday: 10 a.m. - 5 p.m. 
Sunday: Closed 
Holiday Hours and Closures
Bus Route: 3
Curbside Pickup When your hold is ready for pickup, come to the front of Old Colorado City Library on Pikes Peak Ave. Pull into a numbered parking stall and follow instructions on the stall sign to notify staff you are here. After obtaining your name, library card number, staff will retrieve your items, check out your holds, and provide them as quickly as possible. Can't text? Come to the side entrance of the building and ring the doorbell for service. We encourage you to call ahead to have your holds ready when you arrive.
Library Location Address
2418 West Pikes Peak Ave
Colorado Springs, CO 80904
United States