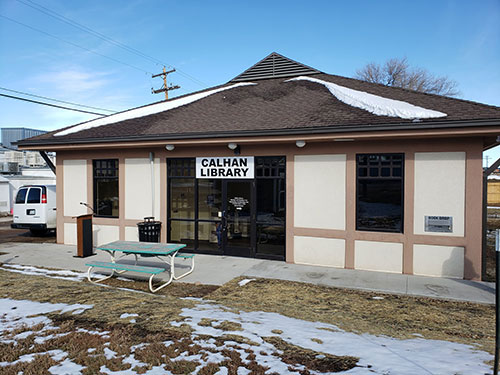 Address:
600 Bank Street Calhan, CO 80808 - map it!
Phone:
(719) 531-6333, x7013 
Contact Us
Hours:
Monday - Wednesday: 9 a.m. - 2 p.m. | 3 - 6 p.m.
Thursday - Friday: Closed
Saturday: 9 a.m. - 2 p.m. | 3 - 6 p.m.
Sunday: Closed
Holiday Hours and Closures
Bus Route: Envida
Curbside Services Come by Calhan Library to pick up your material. Have your library card number and PIN ready when you arrive. You can park in the designated spot on the east side of the building and follow park and text instructions on the sign. You can also ring the doorbell at the south-side door, and staff will meet you at the door with your holds.