Image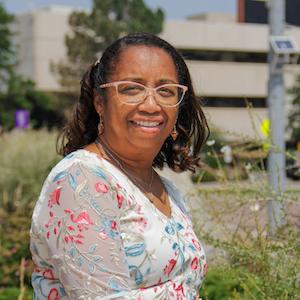 Shirley Martinez's Road to Becoming PPLD's First Director of Equity, Diversity, and Inclusion
When I was a kid, I used to be a "library girl." I used to sit in the library for days during the summer. I would pick out 10 books to read there and then 10 more to take home! Today, my job is making sure PPLD is a welcoming place for everyone.
I was born in my father's hometown of Waycross, Georgia. My dad joined the Air Force after I was born and through my father's service, we were afforded the opportunity to see the world. We were stationed in Japan, Hawaii, Delaware, and upstate New York.
My family returned to Georgia in 1967 and this is where I was first made aware of the civil rights movement and racial inequality. I remember there were still restrooms that read "colored" and "white," and people were marching. Through these experiences, I really got an eye-opening, front-seat lesson in the different racial disparities and the civil rights.
Eventually, my family settled in rural Washington. My dad spent a lot of time overseas as a B-52 mechanic. In high school I had worked to become the head cheerleader and captain of the track team. I had dreams of becoming a nurse. However, I quickly made up my mind that particular career wasn't for me after a harrowing experience at a military hospital. Instead, I enlisted into the armed forces myself by joining the Navy.
The Navy afforded me the opportunity to see the world, try my hand at several different jobs, and is where I met my husband, Paul. After Paul left the Marines, I decided to join the Army and was a journeyman welder for five years, including two summers spent at White Sands Missile Range in New Mexico. I did maintenance, I could change your transmission for you. I could cut off the top of your vehicle and replace it. I did body repair and supervised a platoon at the age of 24 and was the only female out of 300 people in my Combat Support Group.
Eventually, the Army brought us back to Washington where we were stationed at Fort Lewis. Here, while pregnant with my fourth child, I joined Judge Advocate General (JAG), the legal branch of the military. I loved working with the JAG department, but once my kid was born, I had to report back to my unit.
Later, my unit was ready to deploy for Desert Storm. I'd gotten all my shots, I was packed up, and then I was pulled out of ranks two days before we were supposed to leave. I had orders to go to court-reporting school. They needed top secret court reporters. So, I had to go tell my husband, "I'm not going to Afghanistan. I'm now going to Newport, Rhode Island!" Just a slight difference…
My work as a court reporter, and also as chief legal noncommissioned officer, took me to Germany, then Fort Irwin, California, and finally to Fort Carson and the Colorado Springs area. Upon leaving the military, I went to work with Colorado Springs Utilities and got involved with the Colorado Springs Diversity Council.
My diverse set of life experiences and time serving our country in the military made me uniquely qualified to become Pikes Peak Library District's first-ever Director of Equity, Diversity, and Inclusion (EDI). In a lot of ways, I feel like serving in this role at PPLD has brought my life full circle beginning with those former days of reading at the library!
---
Click here for more People of the Pikes Peak Region stories!
---
All you need is your library. But your library needs you, too! Support Pikes Peak Library District by making a charitable gift to the PPLD Foundation. Click here to make your donation today. Thank you!