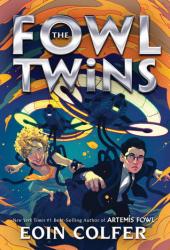 Review:
Artemis Fowl is back!

Well, not really. But his little brothers are a more than sufficient replacement. Twins Myles and Beckett have lived a life of education and luxury (with some mild kidnapping thrown in). But everything changes drastically when a small troll appears on their island. Before they know it, they find themselves kidnapped by ACRONYM (a government organization that deals with magic) and working with a fairy to escape from not one, but two baddies - an evil, mustache twirling duke and a deranged nun that are themselves at odds. Will the Fowl Twins escape in time to save their lives and, perhaps more importantly, human-fairy relations for the rest of time?

This was very cute. Colfer was in top form here, and this held all of the characteristics of a middle grade book that I find to be readable (they aren't always my favorite). Myles is snarky. Beckett is a loose cannon (who can talk to animals!!!). The duke has access to insanely quirky gadgets and wouldn't be out of place as a Despicable Me super-villain. The evil nun is an evil nun. The pace moves quickly, but we still get to know our characters. Aside from its general predictability (adults will see all the twists coming before they happen), it's a fantastic middle grade read. If the narrator is any good, I'll add this series to my list of books that I listen to while running.

TLDR: If you loved the Artemis Fowl series, you'll love this one too! It has all of the best elements of the original series with some fun new quirks and characters. 4 stars - I really liked it.

Thanks to Disney-Hyperion and Netgalley for the eARC, which I received in exchange for an unbiased review. The Fowl Twins is available for purchase on 05 Nov, but you can put your copy on hold today!
Reviewer's Name:
Britt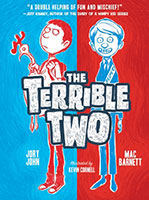 Review:
A great book for reluctant readers, particularly boys. It started out okay, Miles was a bit lame, but this was the authors' intention. They set him up as the novice prankster. Niles schools both Miles and the reader in the fine art of pranking. Miles schools Niles in how to be a friend. Well played, Terrible Two.
Reviewer's Name:
vfranklyn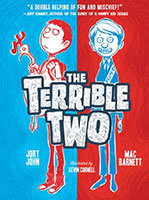 Review:
I just loved this book. It was so funny - both the story and illustrations! It is about Miles Murphy who is a new student in Yawnee Valley (which is only known for lots and lots of cows and they are very proud of that). Miles' goal is to be the best prankster at his new school, but someone keeps coming up with better pranks than Miles - who could that be?
Reviewer's Name:
Lisa