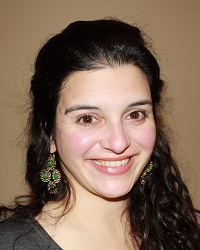 Birth Year (-Died Year)
1976
Birth City
Rio de Janeiro
Current Location
Monument, CO
Occupation(s)
Children's book writer
Biography
Ana Crespo is the author of The Sock Thief, a CCBC 2016 Choices book that tells the story of Felipe, a Brazilian boy who can't afford a soccer ball and must use a lot of creativity (and a few socks) to solve his problem. She is also the author of the My Emotions and Me series. The series follows JP, a little boy with a big imagination, as he learns how to deal with his feelings. Ana is originally from Brazil, but lives in beautiful Colorado with her family.
Education/Training
M.Ed. in Career and Technology Education - Bachelor of Arts Degree in Journalism
Organizations
Society of Children's Book Writers and Illustrators (SCBWI)
Speaker Topics
The making of a book (The Sock Thief) - Brazilian culture - Presentations to elementary schools only, grades PK-3. No "whole school" presentations, please! Please visit my website for more information.