Fischer, T.R.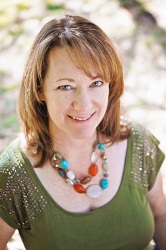 Biography:
TR grew up in and around Boulder, Colorado. After moving to California and sampling life in San Diego, San Francisco and L.A., she and her husband moved back to the wilds of the Denver area. That didn't satisfy, so the city dwellers took up raising buffalo, along with their four rowdy children. Each day is an adventure, on and off the page.
TR now resides near Black Forest. Before moving to Elbert County, we lived in Colorado Springs for two years.
Education/Training:
I have always been a storyteller. Just ask my mother. As for writing them down, that has come by participating in classes and workshops, reading about writing fiction, but mostly from writing and getting critiqued by fellow writers. I have been in several critique groups. The one I am currently involved with formed through the Pikes Peak Writers nearly two years ago.
Organizations:
Pikes Peak Writers - South Denver Critique Group
Speaker Topics:
The road to self publishing - Writing suspense/romantic suspense - How to learn what you don't know through research and networking with specialists