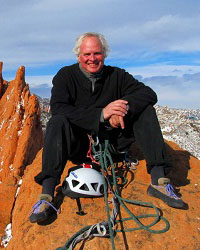 Birth Year (-Died Year)
1953
Birth City
Colorado Springs
Current Location
Colorado Springs, CO
Occupation(s)
Contract writer and photographer
Biography
Stewart Green, born and raised in Colorado Springs, has been a writer and photographer since 1977 and traveled all over the American West as well as the rest of the United States and world in search of memorable images to publish and exhibit and experiences to write about. Since the mid-1980s, Stewart has worked as a contract writer and photographer for Globe Pequot Press/Falcon Guides, writing and photographing over 26 books as of 2014. As a photojournalist, Stewart's photographs have appeared in numerous publications, books, and advertisements.
Awards/Honors
Recipient of the 2011 Golden Quill Award from the Pikes Peak Library District for lifetime excellence as a writer
Education/Training
Bachelor of Arts Degree in Anthropology from the University of Colorado at Colorado Springs - MFA in Creative Non-Fiction Writing from Goucher College at Baltimore, Maryland - Self-taught photographer
Published Works Book Jackets
Organizations
Besides traveling around the world "doing research" for his books, Stewart serves as an advisor to Colorado Springs Department of Parks, Recreation and Cultural Services on rock climbing issues at Colorado Springs city parks and participated on the Master Plan committees for the
Garden of the Gods and Red Rock Canyon Open Space. He also works as a climbing guide for Front Range Climbing Company.
Speaker Topics
Writing - Photography - Adventure travel - Mountaineering - Climbing - Colorado