Hamel, Mike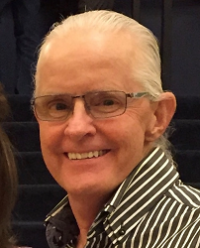 Biography:
MIKE HAMEL is the former editor of INTEREST magazine and Director of the Resource Center for Interest Ministries in Chicago. In 1996 he moved to Colorado Springs and started EMT Communications. Mike has written or co-authored more than twenty books, including a trilogy dealing with faith in the marketplace: The Entrepreneur's Creed (Broadman & Holman), Executive Influence (NavPress) and Giving Back (NavPress).
Mike is a cancer survivor who has written about his experience. In Stumbling Toward Heaven he traces his physical journey toward the Valley of the Shadow of Death, and in We Will Be Landing Shortly: Now What?, he chronicles his spiritual musings along the way.
As to fiction, Mike is the author of Matterhorn the Brave, a four-volume juvenile fiction series, the five-volume TLC series for young readers, and Lizzy the Leatherback, an illustrated book for kids dealing with cancer and other challenges. You can find his books listed on his Amazon Author Page, http://www.amazon.com/-/e/B001JSB7FE.
To learn more about Mike, check out his blog, OPEN Mike, https://mikehamel.wordpress.com/, his About Me page, http://about.me/mikehamel, and his Wikipedia entry, https://en.wikipedia.org/wiki/Mike_Hamel.
Published Works:
Pyramid Scheme (Matterhorn the Brave Series #3)
Tunguska Event (Matterhorn the Brave Series #7)
The Book of Stories (Matterhorn the Brave Series #8)
Zack's Cavern (The Lighthouse Company Series #4)(Pangea Press)