Nickless, Barbara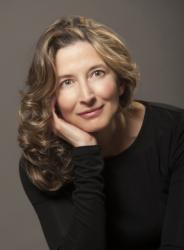 Biography:
Barbara Nickless lives in Colorado where she loves to snowshoe, cave, hike and drink single malt scotch—usually not at the same time. Her first novel, Blood on the Tracks, is the start of a new crime series. Hank Phillippi Ryan calls the book 'Beautifully written and heartbreakingly intense,' while Jeffery Deaver promises '… you'll fall in love with one of the best characters to come along in modern thriller fiction.'
Blood on the Tracks won the Daphne du Maurier Award of Excellence and is a Suspense Magazine Best of 2016 selection. It was also a 2017 Colorado Book Award winner.
Her second book, Dead Stop, was released in 2017 and was a 2018 Colorado Book Award winner. She is thrilled to announce that she's signed a deal with Thomas & Mercer for more two more Sydney Parnell novels. Ambush was released in 2019, with a fourth book to follow in 2020. She is very happy to keep playing in Sydney and Clyde's world!
Barbara has written for Writer's Digest, Criminal Element, and Penguin Random House among other markets.