O'Byrne, D.M.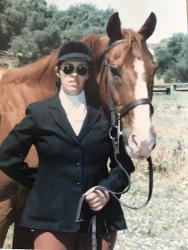 Biography:
D.M. O'Byrne's first job was as a waitress. Now she's a writer of mystery novels. In between, jobs included English teacher, racehorse exerciser, jockey, accountant, golf resort assistant manager, writer, and editor. Her places of residence ranged from the Jersey Shore to a lengthy sojourn in California, and finally to the Colorado Rockies. Each profession, each location was rife with life lessons, fascinating characters, potential plot lines, and wide-ranging experiences. Sooner or later, they will all end up on the written page.
O'Byrne is the author of Dangerous Turf, available on amazon.com, and the sequel, Three to One Odds, was released May 2018. She is now writing a series called the Ryn Lowell Colorado Mysteries published by Black Opal Books. The first book in the series, Death in Trout Fork, was released in October 2018. The second book, The Mountaintop Murders, will be released in May 2019 and the third book, A Killing in Vail, will be released in the fall of 2019. Visit www.blackopalbooks.com for more information.
D.M. lives in Colorado Springs with her husband and their cat, Warnie. They spend much of their time riding bikes and enjoying the scenery. Warnie spends his time watching the bunnies out the window, lounging on the sofa, and trying to catch his tail.
Published Works:
A Killing in Vail (Black Opal Books, scheduled Fall 2019)
The Mountaintop Murders (Black Opal Books, scheduled May 2019)
Speaker Topics:
Mystery writing - Cozy mysteries - Plotting the novel - Developing characters