Paul, Susan Joy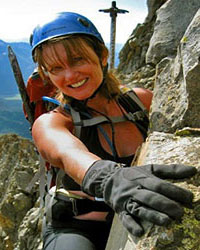 Biography:
Susan Joy Paul has hiked, climbed, snow shoed, rappelled, and at times - when the winds above 14,000 feet were screaming - crawled across the state of Colorado, reaching the summits of more than five hundred mountains along the way.
In her first book, Touring Colorado Hot Springs 2nd.ed., Susan took a break to relax and revitalize at thirty-two of the state's best hot springs.
In Hiking Waterfalls in Colorado, Susan visits one hundred and fifty of the state's waterfalls. The research was a labor of love, taking Susan hundreds of miles on foot, climbing tens of thousands of feet up, in search of the best falls. She completed the hikes in one year's time - nearly all of them solo - taking photos, GPS tracks and detailed notes to create vivid and accurate maps and directions. With this book, Susan shares the splendor of these wonderful, water-full, waterfall hikes with like-minded adventurers.
Published Works:
Various articles appearing in American Mensa and Plains Peaking (2011-2012)
Various articles appearing in Colorado Mountain Club and Pikes Pique (2004-2006)
Speaker Topics:
The hot springs and waterfalls of Colorado