Travis, Lisa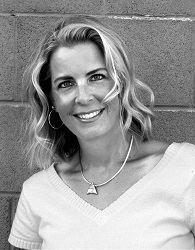 Biography:
Lisa Travis dreamed of faraway places ever since she was a little girl who explored National Geographic magazines every month. Looking for ways to discover the world, Lisa studied at the University of Freiburg in Germany, traveled the USA in a Volkswagon camper, and lived and worked in South Korea. She currently finds ways to pack and go by creating global executive leadership programs that take her to cool places like Guangzhou, Hong Kong, Brussels, Copenhagen, and Prague.
Her experiences around the world inspired her to create Pack-n-Go Girls, an innovative book and toy company for girls that delivers positive messages around independence, adventure, and global awareness.
Lisa brings an MA in Communication and 20 years of instructional design to her writing. She lives, bikes, and skis in Colorado with her husband, two kids, and two dogs.
Published Works:
Mystery of the Troubled Toucan (WorldTrek Publishing, 2015)
Awards/Honors:
2014 Moonbeam Award - Gold Medal, Children's Chapter Book Series
Organizations:
Society of Children's Book Writers and Illustrators (SCBWI)
Speaker Topics:
Children's literature - Multicultural learning and literacy - Writing (grades K-5)