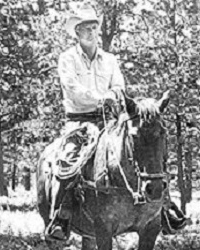 Birth Year (-Died Year)
1925-2014
Biography
In Memory of Doyle Trent (Obituary for Doyle Trent)
Western author Doyle Trent succumbed to congestive heart failure on Sunday, May 11, 2014, in Colorado Springs.
He put up a might struggle. Beaten down by disease, he rose again and again until his heart would not take him any further down the road. He had been knocked down many times before in life, but like the cowboy he was in his youth, he always managed to get up and forge ahead. Despite tremendous obstacles, he fulfilled his dreams of turning himself from a poor, Depression-era kid into a cowboy, followed by a newspaper reporter and finally a successful writer of tales of the Old West.
Doyle was born on May 7, 1925 in Kansas City, Missouri to Morgan and LaVerna Trent. He was fatherless by the age of five. He was one of four boys, who learned self-sufficiency while his widowed mother worked at any job she could get in order to put food on the table. Doyle didn't have many material things but he had a pot full of drive which led him to drop out of school at sixteen and go west to become a cowboy. With his buddies, he would take the money he earned as a ranch hand to rodeo. His specialty was bull riding.
Doyle lived that life until the Army claimed him. He seized the opportunity Uncle Sam had given him, received his GED and enrolled at the University of Colorado. The last semester, just before graduation, someone from administration called him in and said he should never have been accepted with just a GED. He finally conceded he had done the work and made the grades. He was awarded his journalism diploma.
Doyle was the oldest cub reporter on the staff of the small-town newspaper where he got his first job. That never bothered him. During his career in three states, he reported on everything from politics to crime and did one brief stint with the AP, covering the Missouri Legislature. He enjoyed reporting but always had an urge to write novels. For 20 years, he wrote them in his off-time before selling his first. That first book turned into 27 published books sold here and later in England, Germany and Canada. All were westerns. Just before he died, he fulfilled a dream of writing a modern day thriller, Flirting with the Undertaker which was published last month on Amazon.
Doyle met his wife, Joyce on a newspaper in Wichita, Kansas. Together they traveled the world; riding camels in the Egyptian desert, elephants in India, zip lining in Costa Rica, trekking through the Amazon Jungle in Peru and climbing the Great Wall of China.
He was a good and steadfast husband. He took his inner strength from the Code of the West, which reads in part, "Live each day with courage," "Do what has to be done," "Take pride in your work," "When you make a promise, keep it.", "Talk less and say more," and "Remember, some things aren't for sale." He was, as one book fan put it on the internet, "In a world of wannabe cowboy writers, he is the real McCoy."
He was preceded in death by his parents, brothers: Morgan, Glenn and Rex; his horse, Miz Rose and his dogs: Trinket and Daisy. Doyle is survived by his wife, Joyce; nieces: Audrey Ajlouny and Sherri Trent and nephews: Richard Scholes and Rex Trent, Jr.
Doyle will be cremated and interred with his mother. A private family graveside service is planned.
Education/Training
Bachelor of Arts Degree in Journalism, University of Colorado
Published Works
Flirting with the Undertaker (CreateSpace, 2014)
Mountain Marquaders (Zebra, 1995)
Outlaw Justice (Zebra, 1995)
Gunpowder Legacy (Zebra, 1994)
Devil's Disciple (Zebra, 1993)
Fire and Gunsmoke (Zebra, 1993)
Gambler's Guns (Zebra, 1993)
Rawhide Ransom (Zebra, 1992)
Texas Trackers (Zebra, 1992)
Night Rider (Zebra, 1992)
Dead Man's Badge (Zebra, 1991)
Apache Creek Ambush (Zebra, 1991)
Shotgun Canyon (Zebra, 1990)
Dodge City Trail (Zebra, 1990)
The Rawhider (Zebra, 1989)
Colorado Desperadoes (Zebra, 1989)
Gunsmoke Justice (Zebra, 1989)
Cheyenne Brother (Zebra, 1988)
Winchester Law (Zebra, 1988)
Rustler's Trail (Zebra, 1988)
Shadow of the Gallows (Zebra, 1987)
Treachery Town (Zebra, 1987)
Tombstone Lode (Zebra, 1986)
San Lorrah Shootout (Zebra, 1986)
Squaw Mountain Massacre (Zebra, 1985)
Gambler's Gold (Walker, 1983)
Claim Jumper (Leisure Books, 1981)
Published Works Book Jackets