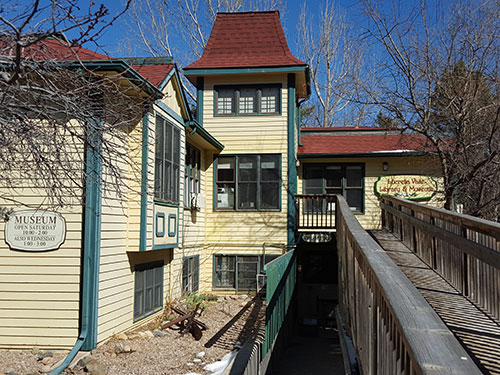 Your book drops have moved! They are now located near the Palmer Lake Library sign on Lower Glenway.
Palmer Lake Library's services are going mobile!
Currently, Pikes Peak Library District leases the property from the Town of Palmer Lake and uses the space to serve the local community. PPLD staff are working with the Town to address the facility's lack of ADA compliance and determine the best way to move forward, so local residents can readily access an adequate public library.
In the meantime, patrons in Palmer Lake will be served by PPLD's bookmobile fleet. Mobile Library Services will launch on Wed., Aug. 5. The bookmobile will stop in the parking lot of Palmer Lake Library on Mondays from 9 - 11 a.m., and Wednesdays from 2:15 - 4 p.m. While Palmer Lake Library's curbside services will cease after Sat., Aug. 1, the bookdrop will remain available 24/7 for returns.
As of Mon., July 27, you can no longer select Palmer Lake Library as a pickup location for you holds. If you're a patron of Palmer Lake Library whose hold becomes available on or after Wed., July 29, your hold will be available for pickup at Monument Library, four miles east on Highway 105. Or, if you have not yet picked up your hold but it is still waiting for you, it will be transferred to Monument Library as of Wed., July 29.
If you'd like to pick your hold up on the bookmobile instead, please call (719) 531-6333, x2313.
---
Address:
66 Lower Glenway - map it!
Palmer Lake, CO 80133
Phone: (719) 531-6333, x7007
Curbside Pickup Phone Number: (719) 481-2587
Contact Us
Holiday Hours and Closures
Bus Route: None