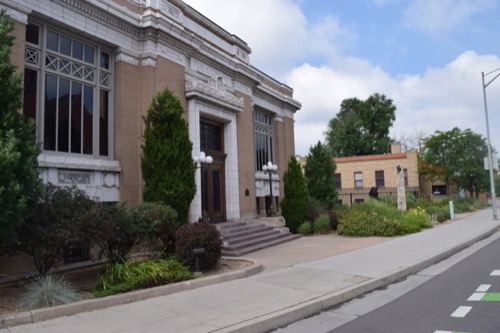 The Regional History and Genealogy Collection can be found in the historic 1905 Carnegie Library which is located in the Northwest corner of Penrose Library.
---
Click here to learn more about Regional History and Genealogy
---
Address:  
20 N. Cascade Ave. - map it!  
Colorado Springs, CO 80903
Phone: (719) 531-6333, x1253  
Contact Us
Hours:      
Sunday and Monday: Closed   
Tuesday - Friday: 10 a.m. - 5 p.m.   
Saturdays: 10 a.m. - 12:30 p.m. and 1:30 p.m. - 5 p.m. (Closed one hour between 12:30 - 1:30 p.m. for lunch)   
Holiday Hours and Closures
Bus Route: 3, 9
Metered Parking:
Penrose meters are coin operated only, credit cards are not accepted on the meters.
Penrose meters are labeled that they are enforced 7 days a week, 10 a.m. to 6 p.m.
The rate is $.50 per hour accepted in .05, .10, .25, 1.00 coins.
The city of Colorado Springs enforces the meter compliance and writes tickets when in violation. PPLD has no authority to overturn a ticket that is issued by the city.
City meters operate:

Mon. - Sat. 10 a.m. to 10 p.m.; Sun 1 p.m. to 10 p.m., rate of $1.00 per hour.
These do take credit cards.

Penrose campus has a no trespassing declaration from 10 p.m. to 7 a.m.
Library Location Address
20 N. Cascade Ave.
Colorado Springs, CO 80903
United States