Image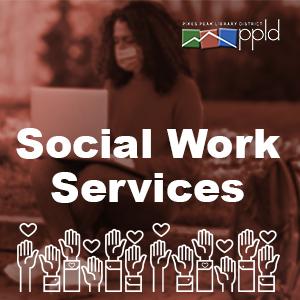 We've all found ourselves in a difficult situation and we aren't always sure where to turn. Pikes Peak Library District offers social work services across the District. Our social workers are here to help you navigate and connect with resources in the community by providing referrals and information to get the help you need for your specific situation. Reach out and meet with a social worker at the Library most convenient to you, or contact them by phone or email. We are happy to support you in finding the best resources for you and your needs.
Contact PPLD's Community Resources Supervisor
Social Worker Hours and Locations
Common questions from our patrons include
How to find affordable housing
Where to get assistance with finding employment
How to go about applying for disability
Where to receive specific services like mental health, medical, or substance use treatment
---
Crisis Help:
Emergency Shelter:
The Salvation Army RJMC (serving adults and families with children) (719) 578-9190
Springs Rescue Mission (serving adults 18 and over) (719) 632-1822
The Place (serving youth ages 15-20) (719) 630-3223
New Promise (serving families with children under age 18) (719) 358-6220
TESSA (serving survivors of domestic violence) (719) 633-3819
Crawford House (serving veterans receiving mental health care through the VA) (719) 477-1639
Other Resources:
Note: PPLD's Community Resources Supervisor is not a case manager or case worker.