Have an adventure with Pikes Peak Library District this summer! Summer Adventure presented by Children's Hospital Colorado helps kids and teens stay engaged and active over the summer months. We know you're looking for engaging activity ideas, and we are here to help!
Anyone ages 0 - 18 can participate and win prizes through reading, moving, and imagining. Either participate in one of our programs or use one of our activity ideas!
 

Oceans of Possibilities!
June 1 - Aug. 15, 2022

---

---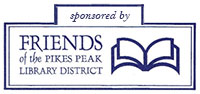 The adventure runs from Wed., June 1 - Mon., Aug. 15. You can sign up for and start the program on June 1 at ppld.beanstack.org.
Click here for group registration information.
Have more questions about Beanstack? Email beanstackhelp@ppld.org.
Receive a reminder email at the start of Summer Adventure and emails throughout June, July, and August for summer programs, activities, and more for ages 0 - 18. You can unsubscribe at any time.
Event Calendars
Game Cards
You can track your progress on the Beanstack app, on the calendars in the Summer Adventure edition of District Discovery, pick up a game card at any Library location, or click here to download and print a physical game card from home!
How to play
Complete an activity (either Read, Imagine, or Move) any day from Wed., June 1 through Mon., Aug. 15.
You can log your progress by recording the dates you complete an activity on Beanstack at ppld.beanstack.org or by using the Beanstack App, available in Google Play or the App Store.  You can also track your progress on the game cards or on the calendars in District Discovery.
You will receive a prize for registering for the Summer Adventure program and a prize when you reach 30 days of activities. You'll also be entered into the grand prize drawing at 30 days of activities.
Bonus Round: For every additional 10 days of activities you complete after finishing the game (after the initial 30 days of activities), you earn 1 additional entry into the grand prize drawing. You can earn up to four additional entries into the drawing.
If you need assistance, call (719) 531-6333 or visit ppld.org/ask for ways to contact the Summer Adventure staff.
Enliven your Zoom or other virtual conversations with Summer Adventure digital backgrounds: Download below!
Prizes
At registration, ages 0 - 12 can choose a book and ages 13 - 18 can select a book or a journal as their initial prize. After logging 30 days of reading and/or activities, ages 0 - 3 receive a set of bath toy boats, ages 4 - 12 receive a reading award medal, and ages 13 - 18 receive another book or journal.
Grand prizes
After logging 30 days of reading and/or activities, ages 0 - 12 are entered into a Grand Prize drawing for a gift certificate to Kiwico; ages 13 - 18 are entered into a grand prize drawing for a Chromebook®.
*There will be multiple winners throughout the District. Residents of El Paso County are eligible to win the grand prize.
Survey
Finished with the program? Please take our survey and answer a few questions to make next year's program even better.
---