Review Crew Book Reviews by Genre: Books Like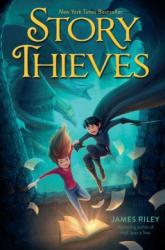 Review:
Owen, a young book-nerd, desperately wishes he could live inside his favorite series. Bethany, a half-fictional girl, is desperately searching for her missing father within fictional worlds, hopping from story to story. One day, Owen discovers Bethany's secret. He makes a deal - he helps her find her father, she allows him to enter his favorite book. But, as they discover, the worlds of fiction are much more dangerous than they appear on the page...
This book was so much fun! I loved every minute of it! Owen and Bethany are great characters that you root for. I also loved the various references to popular books, such as Harry Potter, Peter Pan, and Percy Jackson. If you enjoy fun and geeky adventure stories, this one is DEFINITELY for you!
Grade: 10
Reviewer's Name:
Gillian P.