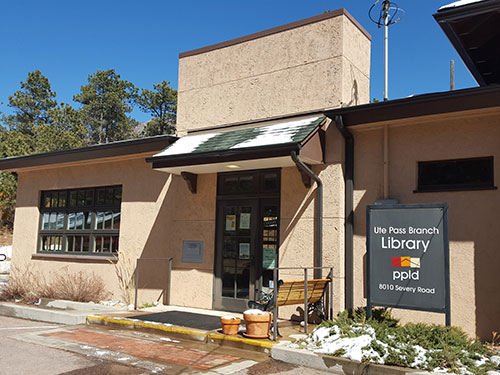 All you need is your library. But your library needs you, too! Support Pikes Peak Library District by making a charitable gift to the PPLD Foundation. Click here to make your donation today. Thank you!
---
Address:
8010 Severy Rd. - map it!
Cascade, CO 80809
Phone: (719) 531-6333, x7011
Contact Us
Hours:
Monday: 11 a.m. - 7 p.m.
Tuesday - Wednesday: Closed
Thursday: 10 a.m. - 6 p.m.
Friday - Saturday: 10 a.m. - 5 p.m.
Sunday: Closed
Holiday Hours and Closures
Bus Route: None
Curbside Services Drop by Ute Pass Library, park in the designated spot, and follow the park and text instructions on the sign. (If you are remaining in their car, please roll down a window or pop the trunk for staff.) You can also give us a call or knock on the door. Please have your library card number and PIN ready.
Library Location Address
8010 Severy
Cascade, CO 80809
United States