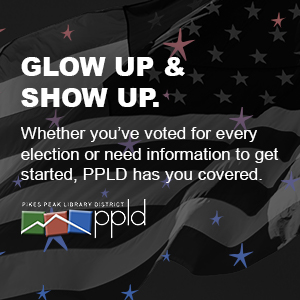 Election Day is Tue., Nov. 3. PPLD encourages everyone to get out there and make your voice heard. Looking for information about ballot issues and candidates? Click here to get started.
Mailing in your vote? Ballots will begin to be mailed to households starting Fri., Oct. 9.
Don't forget to sign your ballot envelope before mailing it in! If you forget, or your signature does not match you will be contacted as follow up to assure the ballot was cast properly.
Voters can go to GoVoteColorado.com to check their ballot status, and even sign up for BallotTrax where voters can opt in to receive email, text, and/or phone updates of their ballot status.
Colorado's voting model is considered the gold standard, and there are significant physical and cyber security measures in place to help identify voter fraud, including extensive signature verification. Colorado does prosecute for voter fraud.
Several library locations have ballot boxes and will act as Voter Service and Polling Centers!

Find a 24-Hour Secure Ballot Drop Box At:

East Library, 5550 N. Union Blvd., Colorado Springs, CO 80918
Library 21c, 1175 Chapel Hills Dr., Colorado Springs, CO 80920

Access a Voter Service and Polling Center from Fri., Oct. 30 - Tue., Nov. 3 at:

*Sand Creek Library will be closed except for curbside service from Fri., Oct. 30 - Tue., Nov. 3 to provide ample access to voters using the space.
---
Voting Resources
Want more information? Visit our voting resources page!
---
Register in Person:
There are four locations where you can register to vote in El Paso County. Click here to find the location nearest you.
It's best to bring a driver's license or Colorado ID, or to know the last four digits of your Social Security number. However, you do not need to bring any of these things with you!
Each location is open Monday - Friday, 8 a.m. - 5 p.m.
The Union Town Center Branch location is also open Saturday from 8 a.m. - 1 p.m.
You may also register to vote in person at Voter Service & Polling Centers through Election Day.
---
Where to vote?
In El Paso County, you can mail in your ballot, drop it off at a secure 24-hour drop box, or vote in person at a Voter Service and Polling Center (VSPC) (where you can also register to vote, update your registration, and drop off your mail ballot). East Library and Library 21c are both drop-off locations.
Mail Ballot: Every active, registered voter in Colorado receives a ballot in the mail. You must register within eight days of the election to receive a mailed ballot.
You can fill it out at home and drop it back in the mail with postage.
You can fill the ballot out and drop it at one of our several convenient secure 24-hour drop boxes throughout
the county. Find the locations of these drop boxes here.
You can fill the ballot out and drop it off at any VSPC in the county. Find the locations of these VSPCs here.
If you lost your mailed ballot or did not receive one, you can vote in-person at any VSPC in the county.
Many VSPCs are open for several days prior to the election, so you can beat the Election Day line.
---
Who can vote in Colorado?
U.S. Citizens
Individuals who are 17 years old if they will be 18 years old by election day (but 16 and 17-year-olds can preregister!).
People who have lived in Colorado for 22 days or more before election day.
People who are not in detention in a correctional facility, jail, or other facility for a felony conviction.
People who have finished their sentence for a felony conviction, including any parole, are eligible to vote.
If you are on probation or were convicted for a misdemeanor, you are eligible to vote.
---
Check out our Community Conversation on voting.