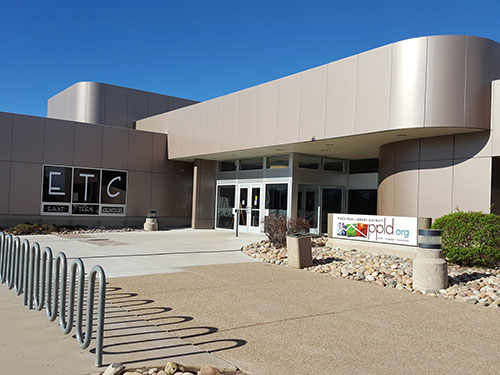 Our Library welcomes you back inside with more services and spaces available to you! Curbside services are still available at this location, which includes a park and text option for pickups.
Here's what you can expect when going inside the Library:
During your visit, you can do the following:
Browse the physical collection, and check out books, movies, music, video games, and more.
Use self-checkout machines and service desks.
Use a computer for one 55-minute session per day. (Reservations encouraged but not required.)
Use machines to fax, scan, and/or copy documents without staff assistance.
Charge your devices and use our WiFi; more furniture available for use again.
Use a meeting or study room. More are reopening weekly; reservations required.
Use our makerspace, which includes laser engravers, sewing machines, and die cutters.
Reserve and check out Studio equipment for pickup inside at the service desk.
Use Studio21c for your recording or video and photography needs.
Take advantage of our 3D print drop-off services.
Use the Education Resource Center by reservation only.
To make a reservation, call (719) 389-8968 or use the link provided above. Reservations are required for meeting rooms and makerspaces. They are strongly encouraged for computer sessions. A library card may be required for some reservations, such as computer sessions.
Here's what you can expect inside the Library to help prevent the spread of COVID-19:
The first hour is reserved for people at higher risk of serious complications from COVID-19.
Face coverings or face shields are required by everyone who is 11 years and older. (Those 10 years and younger are exempt, in addition to those who cannot medically wear a mask. If you need accommodations, please contact the library location.)
Self-service cleaning stations are available, in which patrons can use supplies to wipe down furniture and equipment before or after use if wanted. Staff will no longer clean such surfaces between patron use.
Some areas remain closed to the public like children's play areas, water fountains, and some furniture.
---
Use curbside pickup to retrieve your Library items on hold, wireless print jobs, and take and make kits!
Come by East Library to pick up your material. When you arrive, you can park in one of the designated spots in the north parking lot and follow park and text instructions on the sign. You can also come into the lobby and we will collect your information to provide your hold. Have your library card number ready when you arrive.
When using curbside services, library patrons are encouraged to follow public health guidance like staying 6 feet apart from others. Learn more about our safety measures during the pandemic.
---
Address:
5550 N. Union Blvd. - map it!
Colorado Springs, CO 80918
Floor Plan
Phone: (719) 531-6333, x7014
Contact Us
Hours:
Monday - Thursday: 9 a.m. - 7 p.m.
Friday and Saturday: 10 a.m. - 5 p.m.
Sunday: Closed
Holiday Hours and Closures
Bus Route: 18