Staff Book Reviews by Genre: Reluctant Readers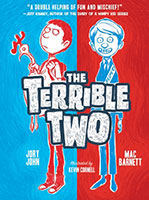 Review:
A great book for reluctant readers, particularly boys. It started out okay, Miles was a bit lame, but this was the authors' intention. They set him up as the novice prankster. Niles schools both Miles and the reader in the fine art of pranking. Miles schools Niles in how to be a friend. Well played, Terrible Two.
Reviewer's Name:
vfranklyn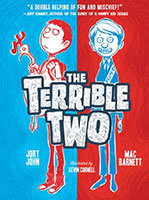 Review:
I just loved this book. It was so funny - both the story and illustrations! It is about Miles Murphy who is a new student in Yawnee Valley (which is only known for lots and lots of cows and they are very proud of that). Miles' goal is to be the best prankster at his new school, but someone keeps coming up with better pranks than Miles - who could that be?
Reviewer's Name:
Lisa