Image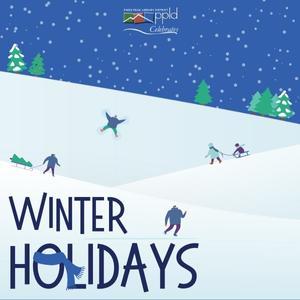 December is packed with festive celebrations, including Hannukah, winter solstice, Christmas, Kwanza, and others. It's a busy time for many, with decorating, meal prep, purchasing gifts, visiting family, and attending community celebrations. Pikes Peak Library District has all the programs, tools, and resources you need to make the best of the holiday season, including cookbooks and classes, DIY gifts, holiday book lists, and more!
Resources
---
Websites
---
Friends of PPLD Bookstore
Get gifts for your family while supporting your Library! The Friends sponsors and supports numerous programs and events to further the enjoyment of reading and love for books for all individuals. The Friends of PPLD are best known for their volunteerism, their bookstores in each Library (you never know what you will find in the ever-changing inventory of previously-read books and magazines) and, of course, the bi-annual Friends Book Sales.
Stop by the Friends store at the Library and find books, CDs, Movies, Magazines, and more from $.25 to $3. Or shop for specialty items online!
Do you love books, reading, and libraries? Have you considered becoming involved in your community? One easy step covers it all! Join the Friends Now!
---
Programs
---
Take and Makes
---
We can't make all of these events and programs happen without you. Support your Library with a charitable gift today! Click here to make your donation. Thank you.
---