Image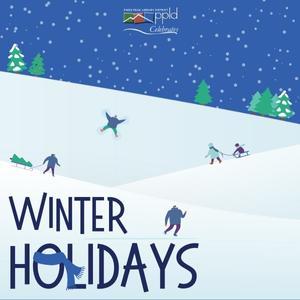 December is packed with festive celebrations, including Hannukah, winter solstice, Christmas, Kwanza, and others. It's a busy time for many, with decorating, meal prep, purchasing gifts, visiting family, and attending community celebrations. Pikes Peak Library District has all the programs, tools, and resources you need to make the best of the holiday season, including cookbooks and classes, DIY gifts, holiday book lists, and more!  
Resources
---
Websites
---
Friends of PPLD Bookstore
Get gifts for your family while supporting your Library! The Friends sponsors and supports numerous programs and events to further the enjoyment of reading and love for books for all individuals. The Friends of PPLD are best known for their volunteerism, their bookstores in each Library (you never know what you will find in the ever-changing inventory of previously-read books and magazines) and, of course, the bi-annual Friends Book Sales.
Stop by the Friends store at the Library and find books, CDs, Movies, Magazines, and more from $.25 to $3. Or shop for specialty items online!
Do you love books, reading, and libraries? Have you considered becoming involved in your community? One easy step covers it all! Join the Friends Now!
---
Programs
Share Classes with Elayne Prechtel

Don't miss the opportunity to come together as a community for "share-worthy" recipes, tips, and more in these fun, interactive virtual classes from the kitchen presented by Elayne Prechtel, award winning author, photographer, and creator of the soul-filled mission, Sharing Life, Love, and Food.

Hot Cocoa Bombs: an in-person demonstration on mastering the art of hot cocoa bombs. Tasty samples provided. Registration required.

Makerspace Holiday Open Houses

Drop by the makerspaces to create some fun holiday crafts and see what these creative spaces have to offer! All ages welcome. All materials provided.

Ornament Making

Learn to make two cute ornaments to have on display in your home for the holidays - a ribbon candy ornament made with ribbon and bells, and a yarn bird ornament.

Forté Handbell Quartet

Ring in the season with Forté Handbell Quartet! This talented group will perform familiar holiday classics and more.

DIY Snow Globes

Swirling glitter-filled snow globes are a nostalgic holiday decoration you can customize with a laminated photograph, ornament, memento, or your child's favorite superhero figurine. This 90-minute program will help you make a thoughtful gift, while keeping you on budget for the holidays. All materials provided, including some holiday-themed ornaments to put inside the snow globe. Registration required. Ages 18+.

Holiday Card Making

Make your own holiday cards under the tutelage of local crafts guru Theresa Pingel to send to your friends and family. All materials will be provided. For beginner and intermediate crafters.

Fifth Annual Yule Ball

Witches, wizards, and all other magical beings are invited to attend the 5th Annual Yule Ball! Get sorted into your Hogwarts House, participate in magical crafts and activities, mingle with fellow fans, and dance the afternoon away. Costumes and cosplay are encouraged. Magical beings (or non-magical) are welcome. Registration required, and space is limited. For kids, tweens, and teens.

Family Holiday Movie Marathon

Come enjoy some holiday movies at the Library!

Wrap & Yap Party

Get ahead on your gift wrapping at the Wrap & Yap Party! Get gift wrapping tips from the Library and from fellow participants. Enjoy hot cocoa and cider while you work.

Gingerbread House Decorating

Join us for a gingerbread house decorating party and create something festive and delicious! All gingerbread materials will be provided by the Library (while supplies last). Families and groups are encouraged to share gingerbread house kits. Registration required, and space is limited. For kids and tweens.
---
Take and Makes
Enjoy a delicious no-bake mug cake - perfect for a snack or dessert. Limit one kit per household, while supplies last.
Fill out a card to send to a loved one. Deposit your card with Library staff so they can put a stamp on it and drop it in the mail for you.
The holidays can be stressful! Take one of our self-care kits and have some Me Time. Each kit will contain a mini-journal, acupressure ring, stress relief tea bag, tissues, breathing exercises, coloring sheet, and mental health resources. Limit one kit per household, while supplies last. Kit may contain supplies not suitable for children.
Cinnamon Roll Mug Cakes
Holiday Cards and Stamps
Self-Care Kits
---
We can't make all of these events and programs happen without you. Support your Library with a charitable gift today! Click here to make your donation. Thank you.
---